NBA playoffs: Miami turn up the heat against Hornets to take series to decisive seventh game
Comments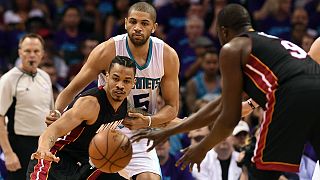 The first round playoff between the Miami Heat and the Charlotte Hornets will go all the way to the wire.
On Friday night Miami beat their rivals on the road in Game six to tie the best-of-seven series at three apiece.
With Kemba Walker in fine form the Hornets got off to a bright start as they aimed to wrap up their first playoff series win since 2002.
But a stubborn Miami side bounced back to head into half-time nine points to the good.
At the end of the third that gap had been reduced to five points.
Jeremy Lin opened the scoring in the fourth quarter for the Hornets with his first field goal of the game – it would be his only one from eight attempts on the night.
With 46 seconds remaining and Miami up by two, Dwyane Wade came out of the wilderness to hit his first three pointer since December, enduring a streak of 22 consecutive misses.
16 seconds later he sank another and then produced a stunning block which effectively ended the Hornet's evening.
The Heat won through 97-90 and will host the decisive game seven on Sunday.