Leicester City aiming for maiden top-flight crown at Theatre of Dreams
Comments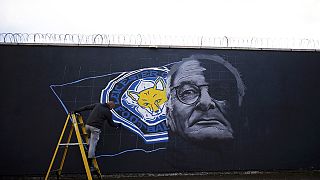 Leicester City fans could be forgiven for getting carried away about Sunday as it could be the day the Foxes win their very first English topflight title.
All they have to do is beat Manchester United.
A draw will prolong the title race to Monday night when closest title rivals Tottenham travel to Chelsea.
The club's Italian coach Claudio Ranieri has masterminded this fairytale season at the club.
His attitude with his players and the press has earned him widespread respect.
For weeks the 64-year old had avoided talking about a real possibility of winning the Premier League title.
With three games to go that has now changed.
At the pre-match press conference Ranieri said: "Now is the real chance to win the title. Next season never knows what happens. Once in the life."
Despite sitting pretty at the top of the table, seven points clear of Spurs, Leicester face a Man United side highly-motivated by their chase for a top-four finish.
Ranieri is not popping the Prosecco corks just yet.
He said: "I can understand all of the happiness around the city, that is great but that's… its the fans, we have to work. And Sunday will be a very, very tough match. I have a lot of respect for (Louis) Van Gaal, for the players, for the Manchester United fans and then I know very well it will be a very difficult match but we go with the same mentality."
The fever-pitch atmosphere has spread throughout the City in anticipation of an historic title-winning season.
A season Ranieri wants to end in Hollywood fashion.
"It's unbelievable, it's history and we know this. It is important to finish the story like an American movie. Always in the final it is okay, a happy ending,'' said Ranieri.
Team news and stats
United boss Van Gaal is expected to field the same starting 11 as the one that beat Everton in the semi-finals of the FA Cup last weekend.
The Red Devils have no fresh injury concerns with only Bastian Schweinsteiger and Luke Shaw remaining sidelined.
Same goes for Leicester City – no new injuries – although top scorer Jamie Vardy will miss the game after the FA banned the England International for an additional game for improper conduct following his aggressive reaction to referee Jon Moss sending him off in the 2-2 draw with West Ham earlier this month.
The Foxes have not beaten Man Utd at Old Trafford in just over 18 years.
But a win on Sunday against the most decorated side in English football, at the appropriately nick-named Theatre of Dreams, will see Leicester City become the first team to win their maiden top-flight crown since Nottingham Forest in 1977-78.
With a victory tomorrow, #lcfc would be the first English team to win their first top division title in 38 years. pic.twitter.com/a09DdverdV

— Leicester City (@LCFC) April 30, 2016
PRESSCONFERENCE: #lcfc boss Claudio Ranieri looks ahead to Sunday's trip to Old Trafford to face Man Utd. #MnuLeihttps://t.co/mmG27TZkIw

— Leicester City (@LCFC) April 29, 2016
WATCH: #lcfc's Jeffrey_Schlupp</a> talks to Foxes Player HD ahead of Sunday&#39;s clash with Manchester United. <a href="https://twitter.com/hashtag/MunLei?src=hash">#MunLei</a><a href="https://t.co/BMYIADOr4N">https://t.co/BMYIADOr4N</a></p>&mdash; Leicester City (LCFC) April 30, 2016