Germany: hundreds arrested as anti-immigrant AfD congress starts
Comments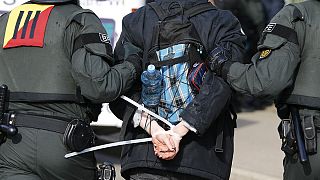 German police arrested some 400 protesters trying to block access to a conference being held by an anti-immigrant party on Saturday.
Clashes broke out despite a tight security presence around the congress hall in Stuttgart.
Feelings are running high over the meeting by the the AfD or Alternative for Germany party.
AfD party congress starts in Stuttgart despite demonstrations https://t.co/R8pBr4ZwwApic.twitter.com/4mPBwYteJJ

— dwnews (@dwnews) 30 avril 2016
It entered three state parliaments last month by attracting votes from those opposed to Chancellor Angela Merkel's decision to welcome mainly Muslim refugees fleeing war in Syria.
Founded three years ago, the party says Islam is incompatible with Germany's constitution and is expected to adopt an openly anti-Islamic manifesto this weekend.
A leader of German Muslims has likened the AFD's attitude towards his community to that of Hitler's Nazis toward Jews.