Turkey detains 15 suspects over Bursa suicide bombing
Comments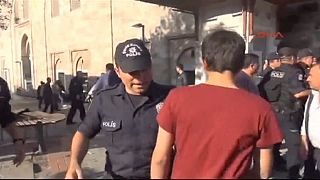 Turkish authorities said on Thursday (April 28) they detained 15 suspects over the suicide bombing that struck the northwestern city of Bursa on Wednesday.
A dozen people were injured when a female suicide bomber blew herself up near the city's main mosque, following afternoon prayers.
Many of the wounded had light injuries such as cuts from shattered windows.
Female suicide bomber wounds 13 in Turkey's #Bursa, the latest attack to strike the country https://t.co/WUBZWAbjh1pic.twitter.com/NluFFPKIrf

—

AFP

news agency (@AFP) April 27, 2016
Bursa is Turkey's fourth-largest city and an industrial hub. It's not a major tourist destination, but draws some foreign visitors with its Ottoman-era architecture.
Police cordoned off the site of the blast, and passersby were ushered away as ambulances and forensics teams arrived.
The mosque is located in a busy neighbourhood, on a street dotted by jewelry shops. The explosion came shortly after a funeral and afternoon prayers, broadcaster CNN Turk said.
The attack was the fifth suicide bombing in a major urban centre this year. Two attacks in Istanbul, Turkey's largest city, have been blamed on ISIL, while two in the capital, Ankara, were claimed by a Kurdish militant group.
Nobody immediately claimed responsibility for the attack in Bursa.
It came a day after the United States warned American citizens in Turkey about credible terrorist threats to tourist areas.
#Bursa suicide bombing highlights spreading threats as #Turkey grapples with #ISIS & #PKK, with DionNissenbaum</a>: <a href="https://t.co/DL2Pvw0gXi">https://t.co/DL2Pvw0gXi</a></p>&mdash; Emre Peker (wsjemre) April 28, 2016