Shelling and explosions threaten Ukraine ceasefire
Comments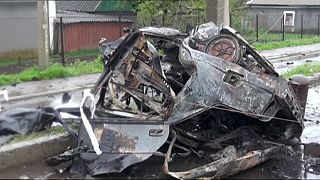 At least four civilians, including a pregnant women have been killed in shelling at a checkpoint crossing in east Ukraine. Pro-Russian rebels have blamed Ukrainian armed forces for the deaths.
'Four civilians killed' in east Ukraine https://t.co/JScNdwRIFc

— World News (@channelone) April 27, 2016
The incident occured near the rebel-controlled village of Olenivka, just meters,from a demarcation line separating the two sides. Pro-Russian rebels control large swathes of the Donetsk and Luhansk regions.
A spokesman for the so-called Donetsk People's Republic (DPR) mentioned seeing a Ukrainian drone before the attack claiming it must have been planned to target civilians. He adds, "the commander who gave this order cannot be called either an officer or a human being".
The Ukrainian army has denied carrying out any shelling at the time in the area.
And in a separate incident four more people have been reported killed in two car explosions near another checkpoint in the south.
Since Sunday there has been a marked rise in shelling threatening a fragile ceasefire between the army and rebels.
Since April 2014 when the conflict broke out, almost 9,200 people have died.
Western leaders and NATO accuse Russia of helping the rebels with heavy weapons and troops – something Moscow has repeatedly denied.