Facebook triples profits: social media can be addictive to investors, too
Comments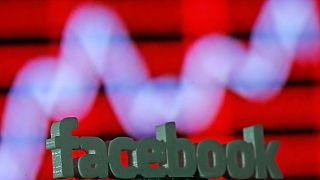 Facebook's latest financial earnings smashed expectations, propelling shares in the social network to a fresh all-time high on Thursday (April 28).
The company's hugely popular mobile app and its push into live video helped it pick up new advertisers, while existing ones spent more.
Quarterly revenue jumped 52 percent, while net income tripled to $1.5 billion (1.32 billion euros).
The earnings wowed investors, especially as they contrasted with disappointing results from Twitter and Apple earlier this week.
Facebook shares rose almost 12 percent to more than $121 on Thursday.
Facebook results: Investors like living in Zuckerberg's world https://t.co/lYnVJdTTlb$FB

— Wall Street Journal (@WSJ) April 28, 2016
Quarterly revenue stood at $5.38 billion, with advertising revenue jumping 57 percent to $5.20 billion.
Mobile ads, which command a higher price than those that appear on desktop computers, accounted for around 80 percent of total ad revenue.
If Facebook were a country
Facebook's reach is also expanding. It boasted 1.65 billion monthly active users as of March 31, up from 1.44 billion a year earlier.
That amounts to more than a fifth of the world's population sharing the social network.
If Facebook were a country, its population would be bigger than China's.
That's not all. Two thirds of Facebook users connect every single day, a sign of loyalty – some would call it an addiction – that both advertisers and investors sure appreciate.
Earlier this year, a tech journal reported Facebook had deliberately crashed its Android app for some users to test at what point they would give up. Surprise: users kept coming back, obsessively trying the app again or simply using the Facebook website instead, The Information revealed.
Facebook's ad revenue now surpasses the entire U.S. newspaper industry. https://t.co/9ZDrikxflX

— edwardroussel (@edwardroussel) April 28, 2016
Zuckerberg cements his control
Facebook said it planned to create a new class of non-voting shares, which would be given as a dividend to existing shareholders.
If shareholders approve the proposal at their next annual meeting in June, they will receive two non-voting shares for each single share they hold.
The move aims to let Chief Executive Mark Zuckerberg, who plans to sell almost all of his shares to fund charitable projects, to do so without relinquishing control of the company he founded when he was just a college student.