Spain poised for new election as coalition efforts fail
Comments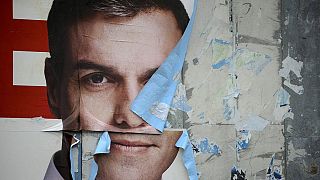 Just four months after an inconclusive general election, Spain is set to go back to the polls.
At this time, no leader has enough support to be appointed prime minister
Final talks on Tuesday between King Felipe and political leaders failed to break a deadlock on forming a new government.
Pedro Sanchez's Socialists and Podemos, the anti-austerity party of Pablo Iglesias, were, notably, unable to settle their differences – leaving hopes of a left-wing coalition in tatters.
Spain faces new elections in June after parties fail to form a government https://t.co/n3uet4c6VG

— The Guardian (@guardian) 26 avril 2016
"At this time, no leader has enough support to be appointed prime minister," Spanish Parliamentary Speaker Patxi Lopez announced.
"So we will wait for May 2 and a decree dissolving parliament and the calling of new elections."
In December's poll, newcomers like Podemos made their mark – shattering Spain's two party system, traditionally dominated by the Socialists and the conservative Popular Party (PP) of caretaker Prime Minister Mariano Rajoy.
Podemos and Ciudadanos ("Citizens"), a business-friendly party, entered the mainstream for the first time in the closely-contested election.
The two parties won scores of seats, tapping widespread anger over a recently-ended economic slump and high-level corruption in the EU's fifth-largest economy.
The Popular Party still came first in December's ballot, but fell well short of a majority.
It won 123 seats in the 350 seat lower house of parliament while the Socialists took 90, Podemos 69 and liberal Ciudadanos 40.
Spain's next general election is set to be held on June 26.