First all-out doctor's strike in the history of England's National Health Service
Comments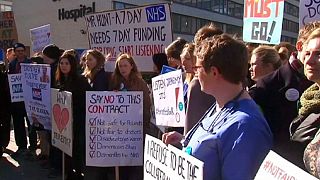 A "bleak day". That was one reaction by government ministers to the first all-out doctors' strike in the history of England's National Health Service – the NHS.
The walkout which began at eight in the morning with similar action on Wednesday has been taken by 53,000 junior doctors.
They want the government to abandon a new contract which it intends to introduce in June. For the first time the stoppage affects Accident and Emergency, maternity and intensive care.
"I'm really genuinely concerned that the government is pushing an already stretched NHS to breaking point and this is just one of a multitude of steps. I passionately believe in the NHS, I think we have a wonderful health service in this country and over the past few years I have seen changes made that will result in its demise and I think this is the latest and the most significant," said one protesting doctor.
Talks between the government and the British Medical Association which is the doctors trade union broke down in January.
The dispute is over working hours and pay with a key sticking point the payments for Saturday.
Under the new contract the amount paid for weekend work will be reduced but the basic pay is being increased.
Two legal challenges are being pursued over the imposition of the new contract.
"You can disagree with the government's vision for a seven-day NHS but is it proportionate or appropriate to withdraw emergency care from vulnerable patients, because that's what's happening today. The single issue that we couldn't agree on, where the deadlock was, was over Saturday pay and we are offering doctors higher premium for Saturday pay than nurses, than paramedics, than assistants who work in their own operating theatre," explained Jeremy Hunt, Health Secretary.
The strike has taken on a sharp political edge with claims other trade unions are watching the unfolding events. Analysts believe that is one reason why the government will not back down.
One media outlet claimed a government source had said the BMA was trying to topple it a fact denied by junior doctor Nicola Miller.
"It's not in our interest to go out there and try and topple governments or try and take over and be all powerful. The doctors running the BMA, they work in hospitals, they know what it is like on the front line, they are simply trying to put forward what would actually work in practice. Jeremy Hunt has never worked in a hospital, he's no idea how to run a hospital."
One opinion poll showed support for the strike remained strong at 57 percent.
The changes were part of the Conservative election manifesto and the government believes no union can sidetrack something on which the British public voted.