Chernobyl nuclear disaster remembered
Comments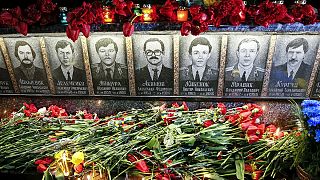 Thirty years ago, on April 26 a catastrophic nuclear accident occurred at the Chernobyl Nuclear Power Plant in northern Ukraine.
An explosion and subsequent fire released large quantities of radioactive particles into the atmosphere, which spread over much of the then western USSR and Europe.
Today, commemorations are being held across the country. In the northern Ukrainian town of Slavutych, locals laid flowers at a special memorial.
#SLAVUTYCH, UKRAINE – APRIL 08: A memorial to technicians who… #slavutychhttps://t.co/N5GtiYkUU4

— Danielle (@daniellemcxs) April 15, 2016
Slavutych was purposely built shortly after the world's worst nuclear accident, to provide homes for those who had worked at the power plant and their families. They were evacuated from the abandoned city of Pripyat which lay the closest to the nuclear plant.
In 1986, the authorities relocated 116,000 people from the 30-km exclusion zone that surrounds the now-idle plant.
Subsequent years saw 230,000 others experience the same fate. Yet 5 million Ukrainians, Belarusians and Russians still live in areas where radiation levels are high.
In Kyiv a mass in the early hours of April 26 was held to mark the moment of the first explosion in the nuclear plant's reactor number 4, 30 years ago.
Other events a will take place across the country including a visit to Chernobyl by President Petro Poroshencko. Neighbouring Russia and Belarus are holding their own commemorations.