Trial begins of 'LuxLeaks' whistleblowers
Comments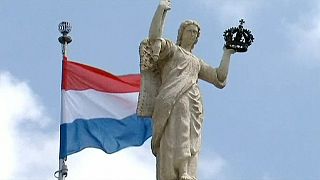 Two former employees of the accountancy firm PricewaterhouseCoopers (PwC) go on trial today in Luxembourg along with a French journalist.
Antoine Deltour plus another unnamed man are charged
with leaking details of confidential corporate tax deals.
Journalist Edouard Perrin was the first journalist to publish reports based on the so-called Luxleaks papers.
#LuxLeaks trial begins tomorrow – we asked PwC_Luxembourg</a> to withdraw complaint: <a href="https://t.co/flQZJlpgZt">https://t.co/flQZJlpgZt</a> <a href="https://twitter.com/hashtag/SpeakUp?src=hash">#SpeakUp</a> <a href="https://t.co/fNt0rpeJft">pic.twitter.com/fNt0rpeJft</a></p>&mdash; Transparency Int&#39;l (anticorruption) April 25, 2016
Criticism
Carl Dolan who is head of the EU office of the NGO Transparency International has praised Deltour saying he should be "celebrated" not prosecuted.
"Whistle-blowers play a crucial role in exposing corruption and abuse of power around the world. What Deltour did is clearly in the public interest, exposing the secret tax deals the Luxembourg government concluded with major Global Companies," said Dolan.
Indeed today's trial has caused great controversy and criticism that Luxembourg has not kept up with modern day thinking.
Support
More than 118,000 people have signed a petiition in support of Delour. Last year, the European parliament awarded him the Citizens' Prize for his contribution to the promotion of common values.
Romain Deltour, brother of #LuxLeaks whistleblower Antoine Deltour, presents the petition https://t.co/xgg85aeYbM Sign today!

— Julia Reda (@Senficon) April 25, 2016
The scandal which broke in 2014 produced an EU parliamentary censure motion against the EU Commission and its president, former Luxembourg premier Jean-Claude Junker. The vote was rejected.
Junker has rejected criticism of his country's past practices and had backed new EU rules to make corporate taxation more transparent.
Prison
The LuxLeaks scandal has been attributed for launching a rethink over corporate tax practices.
However, the accused today face criminal prosecution over violating Luxembourg's strict professional secrecy laws and after a complaint brought by Deltour's former employer, PriceWaterhouseCoopers.
The charges carry a maximum penalty of five years in prison and fines of 1.25 million euros.