Whistleblowers "essential for democracy" says LuxLeaks lawyer
Comments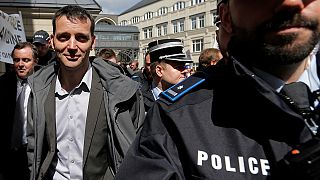 Antoine Deltour is the man at the heart of one of the biggest scandals of the last few years. He is going on trial in Luxembourg accused of having revealed secret tax deals between Luxembourg and around 300 multinationals. The whistleblower behind the LuxLeaks could face ten years in prison as well as a million Euros in fines. Euronews correspondent, Gregoire Lory spoke to Antoine Deltour's lawyer,William Bourdon.
Gregoire Lory, Euronews: Could this trial change the status of whistleblowers in Europe?
William Bourdon, Antoine Deltour's lawyer: This trial will obviously speed up, intensify and strengthen awareness around the subject, not just on a European level but more widely, because these whistleblowers are essential for democracy and they also play a role in modernising it, keeping democracy alive and making sure it is not damaged by greed-driven behaviour, by a race for money at any cost. That's driven by a sort of national egotism which Europe is stuck in at the moment and means Europe is struggling for its survival. In a way Antoine Deltour's action puts this need for European cohesion back at the centre of public debate, the need for more solidarity not just between people in different countries, but between the states themselves, and that includes their tax policies.
Euronews :We hear about strengthening protection for whistleblowers. However at the same time MEPs have passed new rules protecting businesses 'trade secrets'?
William Bourdon: These are two movements that are completely contradictory. You have the movement which we've just spoken about, and then there are the lobbies which are at work in Brussels, they are backed and inspired by a certain economic players, the multinationals, big financial establishments – not all of them incidentally, because there is a range, we need to avoid lumping them together – who see whistleblowers as a danger. And what's the danger? It's that they will hold those who want to act irresponsibly responsible and so the best way to silence whistleblowers is to criminalise any breach of trade secrets. You can see the contradiction between protecting whistle blowers on the one hand and then putting them more at risk of fines and prison when they leak trade secrets which develop into a scandal. So this big gap needs to reduced, and it needs to be reduced not in favour of the lobbies who work for the benefit of an oligarchy which is more or less visible, but reduced in favour of citizens and that means in favour of whistleblowers.