Tear gas used to disperse protests in Cairo
Comments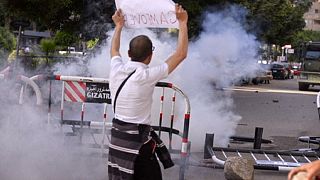 Tear gas used to disperse protests in Cairo
Thousands call for president to go
al-Sissi calls for stability
What is happening?
Egyptian security forces have used tear gas to disperse crowds protesting against President Abdel Fattah al-Sisi.
Videos uploaded to social media show anti-regime protesters chanting and marching in the affluent Dokko neighbourhood.
Thousands of police and soldiers were deployed across the Egyptian capital.
Security services moved quickly to block roads leading to popular central Cairo meeting points.
In pictures
#Egypt's military deploys nationwide ahead of Monday protests https://t.co/lXPlFWwdhC#Sisi#tiran#sanafir#saudipic.twitter.com/N59q03o8Ju

— Ahram Online (@ahramonline) April 25, 2016
Anti-Sissi protest breaks out in Dokki and is dispersed almost as quickly as it starts #egyptpic.twitter.com/09qyaUBRi6

— Leila Fadel (@LeilaFadel) April 25, 2016
Manif sauvage Dokki "Leave Leave Leave" pic.twitter.com/HQl0tCsvkc

— F. Hume-Ferkatadji (@EfaSheef) April 25, 2016
YourAnonGlobal: RT UnheardEgypt: Reports of arrest here. Protesters from Nahiya Giza marching toward El Dokki. #Si… pic.twitter.com/r2ycIWgBxN

— Anonymous (@CovertAnonymous) April 25, 2016
What is the background?
Thousands of Egyptians called for al-Sissi to resign earlier this month. It was the largest demonstration since the former military general took office in 2014.
Egypte : la cession de Tiran et Sanafir à l'Arabie Saoudite enflamme la rue https://t.co/vb5My5yLT0pic.twitter.com/3tY7Hksskd

— Le Desk (@LeDesk_ma) April 25, 2016
They were angered by his decision to hand over two Red Sea islands to Saudi Arabia.
Saudi monarch King Salman visited Egypt earlier this month.
His country has announced a multi-billion dollar aid and investment package for Egypt, fuelling concerns that the islands were being sold off.
Tiran and Sanafir lie off the Sinai peninsula
Originally Saudi Arabian
Placed under Cairo's protection in 1950 when Saudi government feared an israeli attack
What has the president said?
Sisi threatens action against protesters https://t.co/MSCpqVefdSpic.twitter.com/83q3K0a28D

— Press TV (@PressTV) April 24, 2016
Abdel Fattah al-Sissi is urging people to defend the state and its institutions against what he calls "the forces of evil".
He gave a televised address on Sunday evening.
al-Sissi insisted on the need for stability in Egypt – the Arab world's most populous country.
Has anyone been arrested?
Yes.
Human rights activists say more than 90 people have been detained in recent days.
They claim youths were arrested in coffee shops and their own homes.
There has been no comment from the Egyptian Interior Ministry.