Dutch journalist held in Turkey over 'insulting' Erdogan tweets
Comments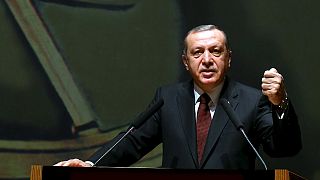 A Dutch journalist, who is an outspoken critic of President Recep Tayyip Erdogan, was taken for questioning then barred from leaving Turkey after tweeting extracts of an article she had written, calling him a 'dictator'.
Ebru Umar, of Turkish descent, was on holiday when she said she was detained overnight on Saturday at a police station in Kusadasi, a resort town on Turkey's Aegean coast.
"The only thing they wanted to know is whether I tweeted, what I tweeted or not and from what device I tweeted that," she said.
"They didn't ask anything and they wouldn't answer any questions either. So, I was just held in custody. I was dragged from one police station to another. I saw three police stations in one night. It's stupid. This is just intimidation. It is sheer intimidation, nothing else."
So I m at the Kusadasi police station to prove I m in Turkey and they just glace at me: what is it you're here for?! pic.twitter.com/lvsgNogIXO

— Ebru Umar (@umarebru) 25 avril 2016
She tweeted on Sunday that she had been released but was not allowed to leave the country.
In the free newspaper Metro last week, Umar called Erdogan a "dictator" and criticised a Turkish consular official in the Netherlands for asking all Turks there to report incidents of insults against Erdogan in the country. The call was widely criticised and later withdrawn.
Back in Amsterdam, police are investigating a burglary at Umar's home. She says an old laptop was stolen and has hinted at more intimidation.
So there was a burglary in my Amsterdam home. I m impressed. intimidated. o wait... I M NOT.

— Ebru Umar (@umarebru) 25 avril 2016
President Erdogan is known for his readiness to take legal action over perceived slurs.
Insulting the president is a crime in Turkey punishable by up to four years in jail, but the law had previously been invoked only rarely. Since Edogan became president in 2014, prosecutors have opened more than 1,800 cases against people for insulting him, the justice minister said last month.
Those who have faced such suits include journalists, cartoonists, academics and even school children. Erdogan has said he is open to criticism, but draws the line at insults.
At his behest, prosecutors in Germany are pursuing a comedian for mocking him. Critics say Erdogan uses the courts to stifle dissent.
Berlin's decision to allow prosecutors to pursue the case against the German comedian has angered many Germans, who see it as a sop by Chancellor Angela Merkel to an authoritarian leader.
Born in The Hague to Turkish parents, Ebru Umar has been an outspoken critic of militant Islam, first in columns for the website of Theo van Gogh, who was murdered by a radical Islamist in 2004 after making films critical of the religion.
Writing in Metro and the critical website GeenStijl, she has denounced headscarves, excessive noise from mosques and what she sees as excessive Dutch tolerance, attracting bulging bags of hate mail from furious critics.