Bangladesh: US embassy worker and gay rights activist is hacked to death
Comments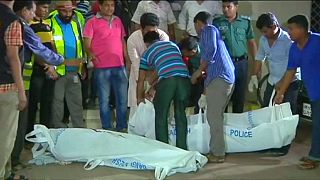 The US State Department has expressed its outrage after two men – one of whom worked at the American embassy in Bangladesh and edited the country's only LGBT magazine – were hacked to death in the capital Dhaka.
The murders of Xulhaz Mannan, 35, a prominent gay rights activist, and of a friend, on Monday have sparked widespread condemnation. Suspected Islamist militants reportedly posed as couriers to get into an apartment where the brutal killings took place.
A third person was wounded.
The editor of Bangladesh's only LGBT magazine has been 'hacked to death' in Dhaka.https://t.co/OJKhKo3qdHpic.twitter.com/bnBmixzUJd

— Gay Times Magazine (@GayTimesMag) 25 avril 2016
Witnesses said the attackers shouted "Allahu Akbar (God is greatest)" as they fled the scene.
Mannan previously worked at the US Embassy in Dhaka.
US Ambassador Marcia Bernicat condemned the killings.
"We abhor this senseless act of violence and urge the government of Bangladesh in the strongest terms to apprehend the criminals behind these murders," she said.
"We are outraged," said a spokesman for the US State Department.
"We are outraged."@statedeptspox on murders of @usembassydhaka employee & a fellow LGBTI activist in #Bangladesh. https://t.co/jH9hcjYY13

— Department of State (@StateDept) 25 avril 2016
It comes just days after a university professor was slain in similar fashion in Rajshahi in northwestern Bangladesh in an attack claimed by ISIL which accused him of encouraging atheism.
Amnesty International condemned the killings.
"The brutal killing today of an editor of an LGBTI publication and his friend, days after a university professor was hacked to death, underscores the appalling lack of protection being afforded to a range of peaceful activists in the country," said Champa Patel, Amnesty International's South Asia Director.
The government denies ISIL has a presence in Bangladesh, saying homegrown radicals are behind the bloodshed.
Bangladesh, a Muslim-majority country, has seen a surge in deadly attacks against liberal and secular activists.
Five secular bloggers and a publisher have been hacked to death in the country since February 2015.
Members of religious minorities have also been targeted.