Solar Impulse successfully crosses Pacific Ocean
Comments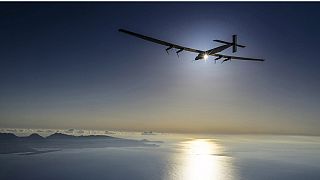 Solar Impulse has successfully crossed the Pacific Ocean to land at Moffett Federal Airfield in California.
The aircraft, which is fuelled entirely by the sun, set off from Hawaii on Thursday for stage nine of the trip.
Solar Impulse began its epic journey in Abu Dhabi in March, 2015.
Stage nine, a 4,000-kilometre leg of the trip comes off the back of an eight-month hiatus for repairs to its batteries.
Prior to that, its two pilots had taken turns to fly it across Oman, India, Myanmar, China and Japan.
From there, it started the five day, five night, journey to Hawaii, setting the record for the longest-ever non-stop solo aeroplane flight.
The pilots intend to cross the US mainland next, aiming to reach New York by the start of June, 2016, before tackling the Atlantic Ocean.