Serbia's pro-EU PM claims 'resounding' election victory
Comments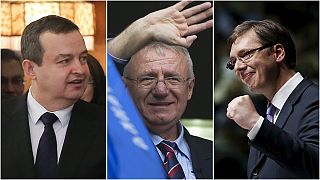 Serbia election is endorsement of pro-EU policy
Poll sees return of ultra nationalists
Serbia faces future of austerity
Serbia's pro-western Prime Minister Aleksander Vucic has claimed victory in the country's snap general elections, after heading for a win with over 50% of the votes.
Serbia is united in attempting a better future
It is an improvement on last time for his conservative Progressive Party and amounts to a 'resounding' endorsement of his policy in pursuing European Union membership
"The election results today represent a strong support for our democracy, reforms and the European integration. We have shown to ourselves and the world that Serbia is united in an attempt for a better future," said Prime Minister Vucic in his victory speech.
#Serbia PM calls on voters to choose European future in today's election – https://t.co/SjJA82pkrpAFP</a></p>&mdash; Rachel O&#39;Brien (robr1) April 24, 2016
But Vucic will have to contend with a resurgent ultra-nationalist opposition which wants closer ties with Russia.
The Radical Party of Vojislav Seselj, who was acquitted by the UN tribunal in the Hague last month of war crimes in the Balkan wars, is set to win around 7.8 percent. It makes them the third-biggest party in parliament after a four-year absence.
The Socialists under Ivica Dacic remain the second biggest party with around 13% but with premier Vucic appearing to have an absolute majority, their time in a government coalition could be at an end.
But Vucic does have his critics with Serbia's economy currently in bad shape and unemployment at around 18%. Having just signed for a €1.2bn loan from the IMF he will now have to implement numerous austerity measures. However Vucic says the election results give him a mandate to go ahead with the tough reforms in order to make the country eligible for EU membership.