Obama says Merkel is 'on the right side of history' for refugee response
Comments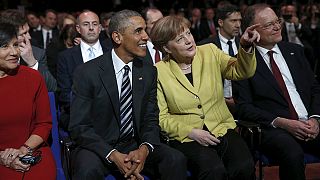 US President Barack Obama heaped high praise on Chancellor Angela Merkel on Sunday as he began a visit to Germany, saying that she was 'on the right side of history' for welcoming hundreds of thousands of refugees.
I am very proud of her...and I am proud of the German people
The pair held talks in the sumptuous setting of Herrenhausen Palace near the northern city of Hanover after Obama flew in from the UK.
Chancellor #Merkel welcomes President #Obama with military honors at Herrenhausen Palace. #HannObama#ObamaInGermanyhttps://t.co/q2CdJqtf0p

— GermanForeignOffice (@GermanyDiplo) 24 avril 2016
After reviewing troops, @Potus and Chancellor Merkel wave to reporters before heading inside for their meeting. pic.twitter.com/etX87P9CZd

— Josh Earnest (@PressSec) 24 avril 2016
Germany is the last stop on a six-day foreign tour where Obama has sought to shore up US alliances he views as important to increase trade, defeat ISIL militants and counter Russia's role in both Syria and Ukraine.
He said he was "deeply concerned" about a surge in violence in Syria, where government forces have stepped up bombing of rebel-held areas around the strategic city of Aleppo.
Now in the last nine months of his presidential term, Obama spoke of a "tragic humanitarian crisis" in Syria and said he continued to believe in a political solution to the fighting there.
Both leaders expressed concerns about violations of a ceasefire in eastern Ukraine and said sanctions against Moscow, imposed by the West in response to Russia's role in Ukraine, could not be eased before the situation on the ground improved.
"I'm very happy that in such turbulent times, we have again had the chance to talk about the whole spectrum of international issues," Merkel told reporters at a news conference.
Obama's words for his host could not have been warmer.
"What is happening with respect to her position on refugees here in Europe – she is on the right side of history on this," he said.
"She is giving voice, I think, to the kinds of principles that bring people together rather than divide them. And I am very proud of her for that and I am proud of the German people for that."
Both leaders want to push ahead with negotiations on the EU-US Transatlantic Trade and Investment Partnership (TTIP).
Thousands of protesters holding placards with slogans like "Stop TTIP" marched on Saturday in Hanover to express their opposition to the deal. Critics fear it could cost jobs and erode consumer protections.
A smaller demonstration was staged in the city on Sunday.