Budapest wins European tram-driving championship
Comments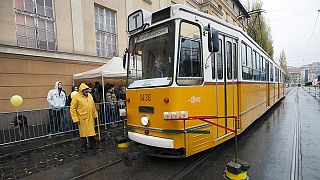 Budapest has won the European Tram drivers championship TRAM-EM for the second time.
Following their maiden victory in 2012, the Hungarians once more claimed the coveted title seeing off 26 rivals from across the continent.
The competition judges drivers on a test track with a 30 metre tram against criteria such as the smooth departure, gentle braking and accuracy of the stop.
Competitors prepare for the European tram-driving championships https://t.co/Xn8XXORr5Zpic.twitter.com/bPaeEbZxKZ

— euronews (@euronews) April 24, 2016
If you are a tram driver interested in participating, or just curious to find out more, you can visit the official website .