Africanews exclusive: George Weah will run again for Liberia's presidency
Comments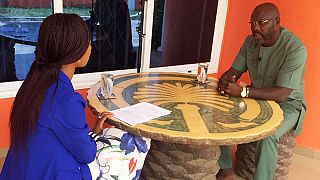 George Weah, the only African footballer to win FIFA's World Player of the Year award, will make a second bid to become president of Liberia, he told Africanews .
See the video and read the whole story on Africanews
The former Milan and Paris Saint German star, who leads his own party in his troubled homeland, said he can overcome divisions and tackle problems that have threatened the democratic process.
"I can form cooperation and collaborations for my people to work and I am ready to work. I have done so much for Africa and I think in the governance process I can bring more on the table," he said.
His second run for the position comes eleven years after disputed election results saw him lose to sitting president Ellen Johnson Sirleaf.
Weah was elected senator on December 20, 2014. His term has so far received mixed reviews. Some say that's where he belongs. His supporters insist it is a huge step towards the presidency.
Liberia goes to the polls in October, 2017.