Queen Elizabeth II turns 90 at Windsor
Comments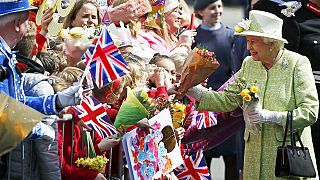 Britons, members of the Commonwealth, and well-wishers worldwide are celebrating the 90th birthday of her Majesty the Queen.
The nation's longest-reigning monarch has enjoyed "evergreen":
http://www.theguardian.com/uk-news/2016/apr/21/the-queen-at-90-across-the-decades personal popularity, and in Windsor, the small town whose name was adopted by the monarchy to purge it of its Germanic roots, it seemed the whole town had turned out to see Elizabeth II.
Her Majesty seemed delighted to see every one of those she stopped to greet. The floral tributes came thick and fast, and cries of "Happy birthday" followed the Queen as she went walkabout.
It is a far cry from the 1990s which saw divorce and the death of Princess Diana nearly bring the British monarchy to its knees, but since then the Queen has steadily rebuilt her standing despite republicanism making some advances in public opinion.