Prime ministerial trio praises Queen Elizabeth II
Comments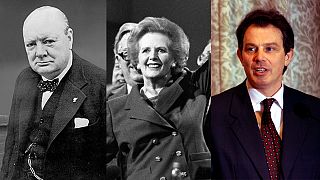 The Queen has gone through 12 prime ministers in all, Winston Churchill was her first, and has outlived all but four of them.
Those that do are all the country's leaders since Margaret Thatcher, a quarter-century of further transformation from the different world Elizabeth inherited in 1952.
"In this modern Elizabethan era in which so much around her has changed, Her Majesty has been steadfast, a rock of strength for our nation, for our commonwealth and on so many occasions for the whole world. She is our queen and we could not be more proud of her. Happy birthday, Your Majesty and long may you continue to reign over us all.," said Prime Minister David Cameron.
"I think the way she has just step by step, without losing the dignity of the monarchy, modernized it and you look at, you know, her grandchildren today and you think, these – Prince William and Prince Harry, I mean, they – for two young people put in that position, I mean it's pretty impressive, really the way they've managed to handle it," said Tony Blair,
prime minister during the great crisis of the death of Princess Diana.
"She is shrewd, she is compassionate, she has a good deal of insight and she has the typical and traditional virtues that you associate with the British. If you were designing someone to be monarch here in Britain, I think you would design someone exactly like Elizabeth II," said former prime minister John Major.