Mitsubishi centre raided as Japan probes faked fuel economy tests
Comments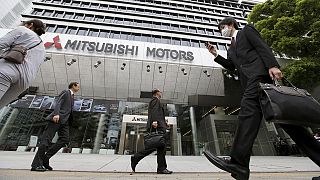 Mitsubishi's shares plunged by 20 percent on Thursday following the carmaker's admission that it faked fuel economy data on cars sold in Japan. They had already fallen by 15 percent on Wednesday.
Japanese transport ministry officials have inspected the carmaker's technical centre as they begin to probe the company.
The government has ordered Mitsubishi to submit a full report on the inaccurate tests by April 27.
"Based on (the findings from) the raid, and a report from the company, we would like to reveal the extent of the inaccuracies as soon as possible. We will deal with the situation in a strict manner and would like to make sure that cars are safe," said Chief Cabinet Secretary Yoshihide Suga.
Mitsubishi says it is investigating an apparent confession from a former manager that he instructed other employees to manipulate performance tests.
The carmaker falsified the data for four models produced after June 2013 – two eK models, "Wagon" and "Space", and the "Dayz" and "Dayz Roox" models produced for Nissan, which noticed the discrepancies.
Mitsubishi, which apologised on Wednesday, says it will make a sincere effort to make amends to car owners.