Kyiv starts ball rolling to get Savchenko released
Comments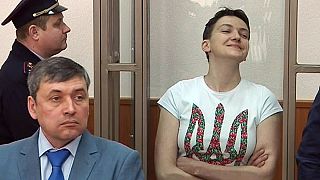 Kyiv has formally requested the paperwork from Russia which is needed for the repatriation of jailed Ukrainian pilot Nadia Savchenko.
It follows President Poroshenko's announcement this week that he had agreed a framework for her release with Russia's President Putin.
Ukraine's president says he has reached deal with Russian President Putin to release jailed Ukrainian pilot: https://t.co/3ljubnydRp

— The Associated Press (@AP) April 19, 2016
National hero
Savchenko who is considered a national hero in her native Ukraine, was sentenced to 22 years in jail in March for alleged involvement in the deaths of two Russian journalists.
She and her supporters say she was seized in eastern Ukraine in June 2014 while fighting with a volunteer battalion against Russia-backed separatists, and taken to Russia illegally.
The request for paperwork is said to be related to Savchenko's possible transfer to serve out her 22-year-sentence in Ukraine.
Prisoner swap
Poroshenko's announcement came a day after a Ukrainian court sentenced two Russian servicemen, Alexandr Alexandrov and Yevgueni Yerofeyevto to 14 years each in prison each on charges of terrorism in eastern Ukraine.
There is speculation the two may shortly be exchanged for Savchenko.
Poroshenko's office said later in the day that the Ukrainian president had also discussed efforts to free Savchenko with EU Commission President Jean-Claude Juncker in a telephone call.
Kiev court convicts two Russian soldiers of terrorism #FreeSavchenko#Savchenko#Савченкоhttps://t.co/iAAyeAmiwv

— ydxnid (@ydxnid) April 19, 2016