ECB pledges low borrowing costs 'as long as needed' but no helicopter money
Comments
By
Euronews
with
Reuters, ECB news conference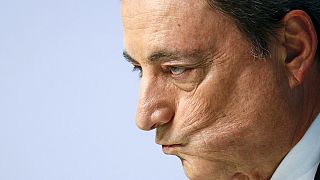 The head of the European Central Bank Mario Draghi has vowed to use all the tools at his disposal for "as long as needed" to kickstart the eurozone economy, but dismissed talk of so-called "helicopter money" – that is handing cash directly to the public.
Our policies work, they are effective. Just give them time to fully display their effects
He did give more details of the corporate bond purchases the ECB will make starting in June to help stimulate growth.
In March Draghi had said they would buy non-financial companies' bonds. This time he was more precise: "If a company owns a bank, but its parent company is not a bank, it is suitable, it is eligible. But if the parent is a bank then they are not eligible. The risk is shared, it is fully shared. The maturity goes up to 30 years. The issue limit is up to 70 percent (of the total of any eligible bond)."
ECB announces details of the corporate sector purchase programme (CSPP) https://t.co/tuMgVP3FOD

—

ECB

(@ecb) April 21, 2016
Draghi also confirmed no change in the cost of borrowing which stays at a record low zero saying interest rates are expected "to remain at present or lower levels for an extended period of time".
Asked about criticism from German Finance Minister Wolfgang Schaeuble that ECB policies are causing "extraordinary" problems for Germany's small savers he responded tartly: "We have a mandate to pursue price stability for the whole of the eurozone not only for Germany. We obey the law, not the politicians, because we are independent, as stated by the law."
Draghi said low interest rates are needed so they can one day return to a higher level, adding without them the eurozone would be in a worse state today.
He concluded the ECB's policy was working: "Our policies work, they are effective. Just give them time to fully display their effects."
Draghi: Low interest rates are a symptom of low growth. If we want higher rates, we need higher growth and inflation

—

ECB

(@ecb) April 21, 2016