More evidence points to 500 deaths off Libyan coast
Comments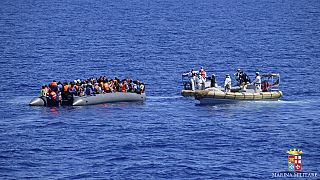 More light has been thrown on a still-unconfirmed migrant tragedy in the Mediterranean, but survivors picked up by a merchant ship just landed in Greece have been telling their stories. Last weekend reports of 400 people drowning came in, but it may be worse.
"It's not clear how many people were on the boat when it sank. Eyewitness accounts talk about up to 500 people. In recent weeks, we have seen the number of people crossing from Libya into Italy increase dramatically and we fear that this is the beginning of the good season. The weather is getting better in the Mediterranean and more people will attempt to cross," said the UNHCR's William Spindler.
The 41 survivors included Somalis, Ethiopians, Egyptians, and a Sudanese man. They said they were on a boat carrying 200 people when it met a larger crowded vessel in the open sea, which sank as traffickers were moving people from their boat onto it. They then drifted alone without food for days until being rescued.
If confirmed it is one of the worst single drowning incidents since the start of the refugee crisis, and it fell on Sunday, the first anniversary of the worst, which killed 800.