Ecuador earthquake: the race is on to find any remaining survivors
Comments
By
Euronews
with
Reuters, United Nations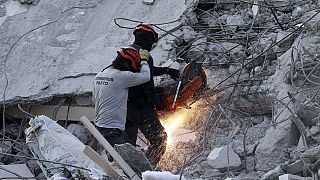 The race is on to find any remaining survivors three days after a devastating earthquake rocked Ecuador.
More than 480 people died and over 4,000 were injured as a result of the magnitude 7.8 quake, which struck off the Pacific coast on Saturday evening.
Northern Irish, Canadian and US nationals have been confirmed among the dead.
According to government tallies, more than 100 people are still missing.
Aftershocks continue to rock the worst-hit areas, triggering mudslides and hampering rescue efforts.
Officials say around 20,500 people are sleeping in shelters. With communications damaged and infrastructure and sanitation poor, survivors are left vulnerable to dirty water and disease.
International aid
The United Nations is organising a "major airlift" to Ecuador, including shelter and mosquito nets, while supplies are also being delivered from Oxfam and the World Food Programme.
Mexico, Venezuela and other countries have also offered personnel and other aid, the government said.
President Rafael Correa estimated Ecuador would need tens of millions of dollars and years of reconstruction before it could get back on its feet.