More storms forecast for Texas as Houston reels from floods
Comments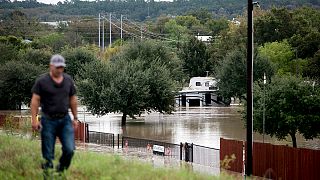 A flash flood alert has been put in force for large parts of the Houston area in Texas, on top of the deluge that has already struck.
The city, America's fourth largest in terms of population has witnessed around 1,000 river rescues as boats were sent out into the streets to save stranded people.
More storms have been forecast for parts of the southern US state, where at least five people have been killed by the floods.
All the fatalities happened in Harris County which contains Houston, the victims becoming trapped in their cars.
As a clean-up began, scores of schools were closed on Tuesday – the day after rainfall which saw records set at the city's two main airports. More than 1,000 flights were cancelled in Texas.
As much as 45 centimetres of rain fell in some areas, leaving thousands without power.
A flood watch has also been put into effect in southwestern Louisiana.
Historic Rainfall Slams #Houstonhttps://t.co/COuczYzSHD#FloodingClimateNexus</a> <a href="https://twitter.com/sierraclub">sierraclubClimateReality</a> <a href="https://twitter.com/350">350pic.twitter.com/7VLg14DMLj

— EcoWatch (@EcoWatch) 19 April 2016