Syrian peace talks resume under cloud of suspicion
Comments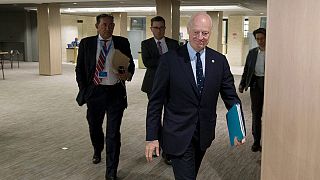 The Syrian peace talks have resumed in Geneva after government and opposition delegations returned to report to their superiors on the progress made so far.
There are few signs that the two sides have come any closer together, and Syria's chief negotiator and various rebel groups have made claims that indicate the talks will struggle to make progress.
"We have credible and documented information on Israeli complicity with Jahbhat al-Nusra and ISIS terrorists in the Golan heights. There is also Israeli-Qatari collusion in the
abduction of Filipino soldiers working under the UNDOF peacekeeping force banner," said the Syrian government's Bashar Jaafari.
Rebel groups have voiced discontent over the UN's Syria envoy Staffan De Mistura, who they say is too close to the Damascus government, and want to take a tougher line with Bashar al-Assad.
"What is happening on the ground in Syria, casts a bleak light on the protagonists of the Syrian talks here at the Palace of the United Nations in Geneva. And while the gap widens between the two parties on the political transition, one wonders if these negotiations are really set to continue or if they will fail once again to end the suffering of the Syrian people," says euronews' Faiza Garah.