I would walk 200 miles... Marching Romanian miners reach Bucharest
Comments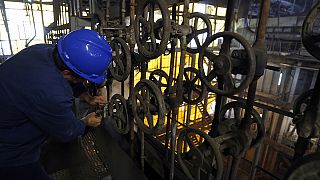 After 7 days and 320 km of walking, Romanian miners and energy workers have reached Bucharest.
The march aimed to draw the government's attention to problems in the energy sector, but also save some 800 mining jobs. State-owned energy company Oltenia Energy Complex had proposed laying off the staff after reporting yearly losses of almost 200 million euros in 2015.
On arrival in the capital, delegates from the National Quarry and Energy trade union federation entered into discussions with Deputy Prime Minister Costin Borc and government officials.