Strong earthquake causes 'considerable damage' in Ecuador
Comments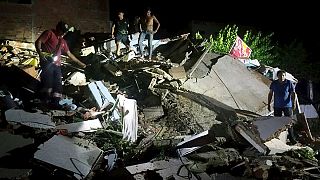 A strong earthquake of magnitude 7.8 struck off the coast of Ecuador late on Saturday, causing "considerable damage," according to the country's government.
According to the country's vice-president, dozens of people have been killed.
The national guard has been deployed to maintain public order.
The quake sent confused residents streaming into the streets of the capital Quito and spurred warnings of strong waves on the Andean nation's coast.
"I was in my house watching a movie and everything started to shake," said Lorena Cazares, a telecommunications worker in Quito."I ran out into the street and now I don't know what's going to happen."
Some parts of the capital were without power or telephone service, with many communicating only via Whatsapp. Photos on social media showed cracks in the walls of shopping centers.
The US. Geological Survey said the quake had a magnitude of 7.8, though Ecuador's Institute of Geophysics on its Twitter account published several different figures that were lower.
The Pacific Tsunami Warning Center said tsunami waves reaching 0.3 to 1 meters above the tide level are possible for some coasts of Ecuador.
Neighboring Peru issued a tsunami alert for the north of the country following the quake.
The quake was centered just off the coast at a shallow depth of 19 km, according to the USGS.
#Ecuador#EarthQuake upgraded to Mag 7.8. Pacific #Tsunami Warning within 300 miles of epicentre. #breaking#quakepic.twitter.com/xZIsv62C5X

— Stefan Simanowitz (@StefSimanowitz) April 17, 2016