IMF urges 'growth-friendly' spending from member countries
Comments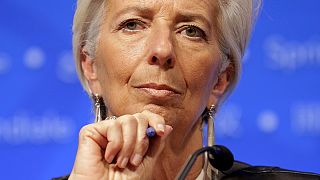 The International Monetary Fund (IMF) has urged member nations to boost "growth-friendly" spending in light of the Syrian refugee crisis.
At the spring meetings of the IMF and World Bank in Washington, DC the fund said it would explore new lending tools to help deal with slowing global growth.
A European Commission survey says Syrian migrants could boost EU growth, as the European Commission's vice president Kristalina Georgieva explained to euronews.
"We have done an assessment in the Commission and our judgement is that over this and next year we are likely to see a boost of GDP in the order of 0.2, 0.3 percent growth in Europe being around two percent," said Georgieva. "This is not negligible."
The European Investment Bank said international challenges such as the Syrian crisis need better cooperation, both between institutions and between public and private sectors. Particularly as Europe faces long-term migration challenges.
"The ongoing climate change will generate more flows of refugees or at least migrants," EIB president Werner Hoyer told euronews. "This bigger picture is something that not everybody is aware of yet. And therefore a conference such as this is a pretty big eye opener, and the cooperation between multilateral banks and the United Nations has considerably intensified."
IMF Managing Director Christine Lagarde said that calmer markets since February had reduced the stress level at the IMF and World Bank spring meetings here, but the outlook was still fraught with downside risks from weak demand, a potential UK exit from the European Union and low oil and commodity prices.
"There was not exactly the same level of anxiety but I think there was an equal level of concern, and a collective endeavor to identify the solution and the responses to the global economic situation," Lagarde told a news conference.
She described the gatherings, along with a Group of 20 finance ministers and central bank governors meeting on Friday, as "collective therapy" to deal with the gloomy prospects. The IMF cut its global growth forecasts earlier this week for the fourth time in a year.
"The humanitarian challenge is not the only Syria-related concern here at the Spring Meetings," reported euronews Washington correspondent Stefan Grobe. "There is, of course, the question of rebuilding Syria – something the World Bank thinks would cost north of 150 billion euros."