Last week, Euronews brought you news of the opening stage of the search to find the next Secretary General of the United Nations.
Now we can bring you up to date with what happened.
So who are the candidates, then?
So far, there are nine. More are expected to declare before the summer.
Last week, each nominee took part in a two-hour question-and-answer session with the UN General Assembly in New York.
Insiders say former Portuguese Prime Minister Antonio Guterres and former New Zealand Prime Minister Helen Clark are currently leading the pack.
After the front-runners, diplomatic sources say the situation is less clear-cut:
Irina Bokova (UNESCO Director General, Bulgarian)
Vuk Jeremic (former Serbian Foreign Minister)
Danilo Turk (former Slovenian President)
Croatia's former foreign minister Vesna Pusic, Moldova's former foreign minister Natalia Gherman, Macedonian former foreign minister Srgjan Kerim and Montengrin former foreign minister Igor Luksic are also in the running.
Ultimately, the "veto powers" (the US, UK, France, Russia and China) have to agree on the candidate.
They are under no obligation to pay attention to what the General Assembly says.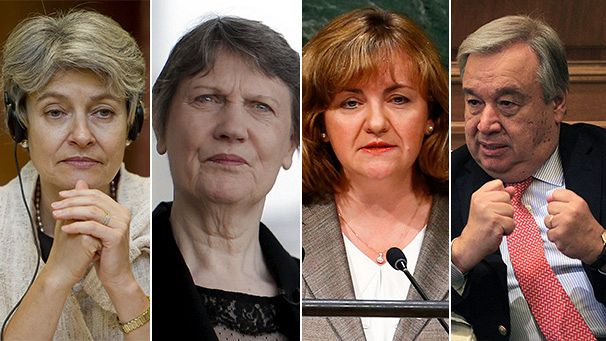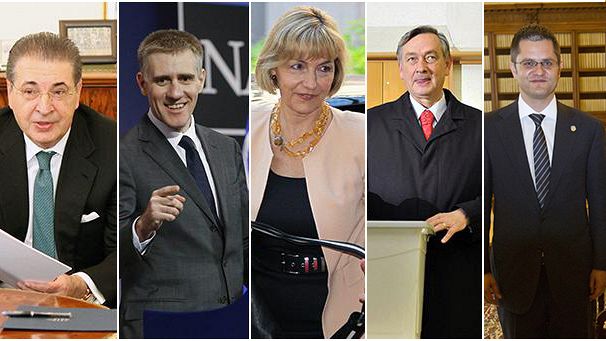 (The candidates from left to right: Irina Bokova, Helen Clark, Natalia Gherman, Antonio Guterres, Srgjan Kerim, Igor Luksic, Vesna Pusic, Danilo Turk, Vuk Jeremic)
Who do the bookies have their money on?
British bookmaker William Hill has Helen Clark as the favourite, followed by Jeremic, Bokova, Guterres and Turk.
Kerim, Gherman, Pusic and Luksic come next.
Is anyone else likely to stand?
Argentina's Foreign Minister Susana Malcorra is expected to be nominated.
She has served as Ban Ki-moon's Chef de Cabinet.
Colombia's Foreign Minister Maria Angela Holguin, former Australian Prime Minister Kevin Rudd and Slovakia's Foreign Minister Miroslav Lajcak are also thought to be considering the position.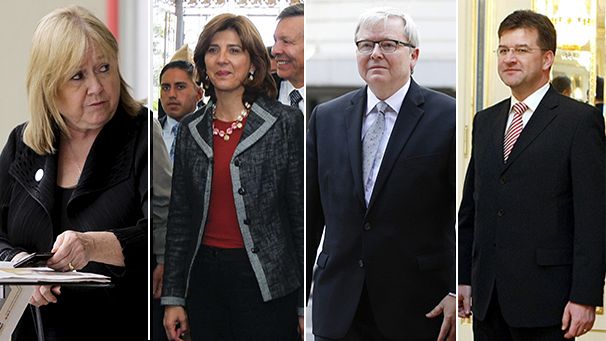 (From left: Susana Malcorra, Maria Angela Holguin, Kevin Rudd, Miroslav Lajcak)
Why is Ban Ki-moon stepping down?
By the end of the year, he will have completed two five-year terms in charge.
Some predict up to 15 candidates could be after the job as the world's most prominent diplomat by the time the Security Council begins the process of selection in July.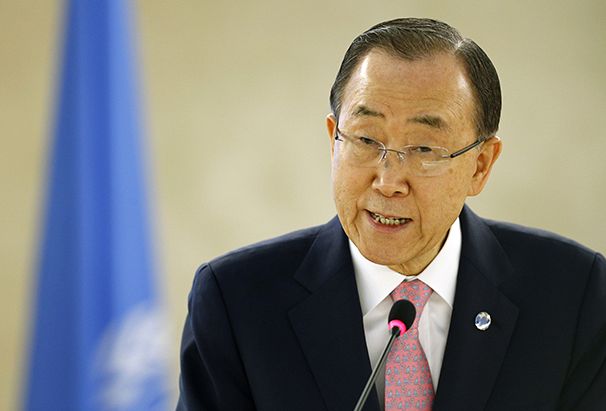 What they are saying
"We urge every country and every candidate...to come forward and come forward quickly"
- UN General Assembly President Mogens Lykketoft.
"It is too early to rule anybody in or out, but I think there are at least two of three good candidates already amongst the ones we have seen"
- Saudi Arabia's UN Ambassador Abdallah Al-Mouallimi.
"I would say that approximately three out of nine I would call front runners "
- Ukraine's UN Ambassador Volodymyr Yelchenko.