Debate begins in Brazil ahead of impeachment vote for Rousseff
Comments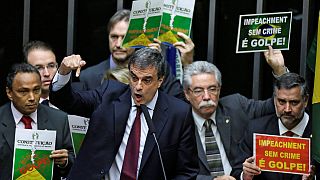 A heated debate has begun in Brazil's lower house ahead of a vote which will decide the fate of President Dilma Rousseff.
The session began with MPs chanting 'Dilma Out' before the Attorney General came to her defence calling the process a 'violent act' and warning that history 'wouldn't forgive those who broke with democracy'.
Those supporting her impeachment argue it is the will of the people. Polls indicate around two-thirds of Brazilians want to see Rousseff leave office and more than one million protesters took to the streets last month calling on her to step down.
Latest counts put the pro-impeachment camp in the lead.
If the vote on Sunday doesn't go her way, it would end the 13-year-rule of her leftist Workers' Party. But Rousseff has said she will not go quietly.