Four Dutch masterpieces stolen from museum show up in Ukraine
Comments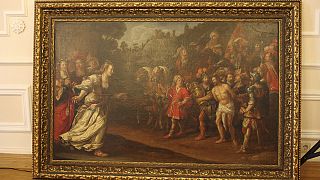 Four Dutch masterpieces dating from the country's 17th-century Golden Age have been recovered by security services in Ukraine over 10 years after they were stolen from a museum in the Netherlands, according to Ukraine's Foreign Minister Pavlo Klimkin.
The paintings — part of a group of 24 works valued at 10 million euros when they went missing in 2005 — were said in December to have been discovered in a villa in a rebel-controlled area of eastern Ukraine, although the reports were never confirmed.
"And I am sure that today's success will help improve Ukraine's image in the future everywhere, particularly in the Netherlands," Klimkin said at a briefing with Dutch Ambassador to Ukraine Kees Klompenhouwer.
Dutch voters rejected a Ukraine-EU treaty on closer economic and political ties in a non-binding referendum on April 6.