Columbus Zoo introduces Nora the polar bear cub to visitors
Comments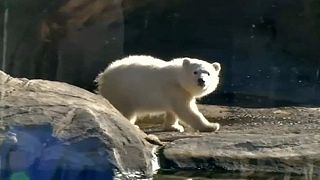 Columbus Zoo in the US state of Ohio has introduced its new polar bear cub Nora to enthusiastic visitors.
It marked the first public appearance for the baby bear, who was born in November.
She was hand-reared by an animal care team after the zoo observed the mother frequently abandoning the newborn for long periods of time.
Nora is developing at a healthy rate, according to zoo officials.
Scientists estimate that only 20,000-25,000 polar bears remain in the wild, the zoo said.
In Ohio, the public will now have the opportunity to watch one grow, as Nora gets set to play outside for one hour each day.