Brazil: Dilma Rousseff puts in last-ditch effort ahead of impeachment vote
Comments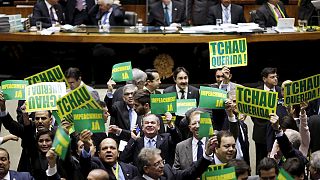 Embattled Brazilian President Dilma Rousseff has put in a last-ditch effort ahead of Sunday's impeachment vote (April 17).
The country's first female leader cancelled an appearance at an anti-impeachment rally, instead choosing to enter into last-minute negotiations with wavering leftist Socialist MPs.
She has continually disputed the process and told Brazil:
"The process against me and the analysis in the house of Congress is nothing more than fraud. Political and judicial fraud. Impeachment wouldn't be possible without this fraudulent process, the history of our country has shown. Brazil and democracy do not merit such a farce and I ask all Brazilians not to allow themselves to be lied to."
Rousseff will be fighting for her political life on Sunday. A majority of two thirds is needed to push ahead with the impeachment process and Saturday's discussions suggest the vote may be closer than originally anticipated.
She has been plagued by a political scandal centring around state oil company Petrobras.