FYROM president stands by decision to pardon officials ahead of June vote
Comments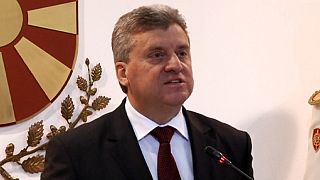 The Former Yugoslav Republic of Macedonia has announced an early parliamentary election is to be held on June 5. It follows months of political deadlock linked to a corruption scandal, which resulted in the dissolution of parliament.
The situation intensified this week when President Gjorge Ivanov officially pardoned 56 officials and the former prime minister, all of whom are alleged to have been involved in a wiretapping operation.
Ivanov stood by the move, saying:
"I think the decision protects the state's interest and I inform you that I am standing by it. Anyone who thinks that a right has been taken from him or that I have done him a bad turn, or wants to prove his innocence in court, I call on him personally, in writing, to submit a request to annul the decision regarding him."
The opposition has already announced it will boycott the June vote.