Rio Olympics: the challenges faced by Brazil
Comments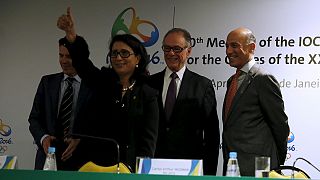 With the Brazilian president facing impeachment, the economy in the doldrums and a number of venues beset by problems, you'd be forgiven for thinking that the Rio Olympics could be in trouble.
Not so, according to the International Olympic Committee which insisted again today that preparations are on track.
But what are the current issues that Rio Olympic organisers facing in the last stretch of preparations?
Political turmoil
- Brazil's government is currently near paralysed by the numerous barricades surrounding official buildings in the capital Brasilia separating the anti and pro-Rouseff supporters before Sunday's crucial vote, as well as by the general social unrest caused by the deepening recession.
Lawmakers accuse Rouseff of hiding a budgetary deficit and misallocating government funds to boost her re-election campaign in 2014. Her presidency has been rocked by a widening graft scandal and accusations of cronyism.
An investigation into the allegations of corruption at the state run oil giant Petrobras has since embroiled many high ranking politicians, including the president of the House of Deputies, Eduardo Cunha, who is somewhat ironically leading calls for Rousseff's impeachment.
Olympic-specific woes
- Pollution in Olympic venues remains a serious concern, with dangerous levels of viruses and bacteria from human faeces recorded in the sailing venue Guanabarra Bay, as well as in the lagoon set to host the rowing events.
- Operational budget cuts of US$ 500 million will impact food and transportation services, reduce resources for the opening and closing ceremonies, and have already led to a decrease in the number of volunteers employed.
- Ticket sales have also been slow, with only 62 percent of the 3.5 million tickets available allocated to Brazilians for the Olympics sold, while the figure for the Paralympics is more worrying at 22 percent.
It is understood Rio organisers expect more tickets to be bought after the draw for the soccer is done on Thursday, even though the sport is traditionally not the main attraction of a Summer Olympics.
- Although the cast majority of the competition venues are "98 percent" complete, the new velodrome in the main Barra Olympic Park has been beset by delays. The test event was entirely scrapped in March following problems installing the wooden track.
- The state of Rio de Janeiro has cut US$ 500 million from the policing budget, raising questions over Olympic security. The Brazilian armed forces are expected to fill any gaps, as the British armed forces did for the 2012 London Games after a security contractor failed to provide necessary numbers.