Records tumble as Warriors, Curry skin Grizzlies
Comments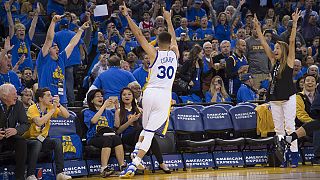 The Golden State Warriors are the talk of the basketball world following their latest win, as it takes them to 73-9, an all-time NBA record.
The Michael Jordan-led Chicago Bulls went 72-10 in 1995-96.
Golden State bossed the Oakland stadium as the Memphis Grizzlies had no answer to the Warriors' firepower and were unable to protect the record from falling.
The game included Steven Curry making his 400th three-pointer of the season, an astonishing feat considering only he himself had come close to the 300 mark previously. The NBA's reigning MVP scored 46 points in all.
Final score, 125-104 to the defending champions.