Presidential pardons amid wiretap scandal draws protests in Skopje
Comments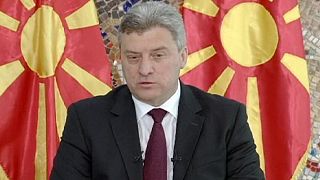 The Former Yugoslav Republic of Macedonia's (FYROM) special prosecutor said on Thursday (April 15) she would continue investigating a wiretapping scandal, including alleged large-scale misappropriation of government funds, despite 56 officials being granted a presidential amnesty.
Prosecutors said they had not been consulted about President Gjorge Ivanov's decision, first announced on Tuesday, to pardon prominent politicians alleged to be involved in the affair, including former prime minister Nikola Gruevski and opposition leader Zoran Zaev.
"I am firmly convinced that justice will prevail. We will continue to work according to the law by which this office was established," said special prosecutor Katica Janeva, who was appointed last year to investigate the scandal.
Janeva, speaking at a news conference, said her office had information that a large amount of money from the state budget had ended up in private pockets between 2008 and 2015.
Although the pardons prevent her from bringing charges against any of the 56 officials, Janeva said she would keep investigating whether wealth had been taken illegally and, if so, seek to confiscate it.
Demonstrators held a third night of protests in the capital Skopje on Thursday night over Ivanov's decision to pardon the government and opposition figures.
Thousands of government and opposition supporters held separate rallies to protest at the pardoning of officials from the other side. Buses brought people in from other towns to join them.
Pro-opposition protesters, holding signs saying "No justice, no peace" briefly jostled police who blocked their way and threw stones at them but it was calmer than on Wednesday night when one of Ivanov's offices was ransacked.
Britain's Europe Minister David Lidington said on Thursday that Ivanov's pardon was a "matter of considerable concern" and he urged him "to find a way to reverse the decision."
FYROM has been in turmoil since Zaev accused Gruevski and his counter-intelligence chief, Saso Mijalkov, in February last year of orchestrating the wiretapping of more than 20,000 people.
The opposition said the phone-taps exposed government control over journalists, judges, public sector recruitment and the manipulation of elections in FYROM, which aspires to join both NATO and the EU.
Under an EU-brokered deal reached last year to try to end the crisis, a special prosecutor was appointed to investigate the wiretap revelations and Gruevski agreed to an early election, expected in June.
Gruevski distanced himself on Thursday from Ivanov's amnesty. "It is against what we stand for. Those who have done something criminal should answer for it," he said.
Timeline: What happened in
FYROM

before