Earthquake magnitude 6.4 hits Japan
Comments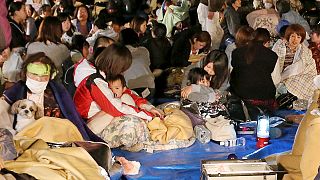 A magnitude 6.4 earthquake has hit southwestern Japan. At least two people have died, according to public broadcaster NHK.
The quake struck around 9.30pm local time, 11km east of Kumamoto on the island of Kyushu in the southwest of the country. It was followed by a 5.7 magitude quake thirty minutes later. A fire erupted in Mashiki near the epicentre.
Nineteen buildings have collapsed, and there are fears people could still be trapped under rubble.
Despite the magnitude of the quake nuclear facilities appear to be unaffected. The Nuclear Regulation Authority said they had no reports of irregularities.
Officials at Japan's meteorological survey warned people to be on alert for aftershocks for the next few days, but no tsunami warning was issued.
In 2011 a quake of magnitude 9 caused a tsunami which killed nearly 20,000 people and triggered a meltdown at the Fukushima nuclear plant.