China court rules gay couple cannot marry
Comments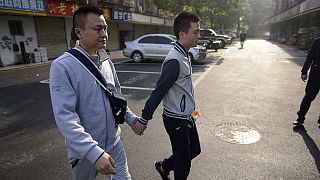 Two men in China have had their request to marry rejected by a local court in the country's first case of its kind. Accompanied by their supporters the application was dismissed within a few hours. Despite that gay rights activists see reason for hope.
While homosexuality is not illegal in China and large cities have thriving gay scenes, same-sex marriage is not legal and same-sex couple have no legal protection.
However there is a growing awareness of gay issues and the country is becoming more tolerant of homosexuality, which until 2001 was listed as a mental disorder.  
Chinese couple lose fight for gay marriage. China still tries "cures" for homosexuality https://t.co/F5fsgyOrtmpic.twitter.com/uzNFxvHp8j

— The Economist (@TheEconomist) April 13, 2016