Nagorno-Karabakh: Armenians protest against Russian arms sales
Comments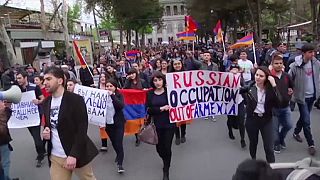 Hundreds of young Armenians have protested against Russian weapon sales to Azerbaijan.
They held a march through central Yerevan on Wednesday (April 13) claiming the sales were a factor in the recent outbreak of fighting in the disputed region of Nagorno-Karabakh.
Scuffles with police broke out when marchers reached the Russian Embassy.
The conflict between Azerbaijan and Nagorno-Karabkh dates back to the break up of the Soviet Union.