Jordan closes Muslim Brotherhood headquarters in Amman
Comments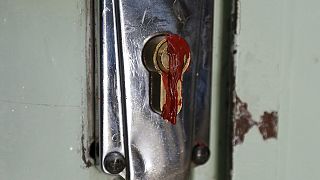 Jordanian police have closed the headquarters of the main opposition group, the Muslim Brotherhood in Amman.
The offices were sealed on the orders of the city's governor, though no reason was given for the closure.
The Brotherhood has existed in Jordan for decades, having significant grassroots support in urban areas, with its political wing the Islamic Action Front representing the largest opposition party.
"There is no doubt that the Muslim Brotherhood are being exposed to government pressure, and these government steps are not in line with the law, and against what they are claiming in terms of applying democracy and political dialogue," explained Badi al-Rafaiah, Muslim Brotherhood spokesman.
The Muslim Brotherhood in Jordan lost its official registration last year after failing to comply with new regulations.
Jordan has been clamping down on the Brotherhood over the past two years, banning rallies and arresting members critical of the government.