Egypt's Sisi says blame for death of Italian student Giulio Regeni based on rumours
Comments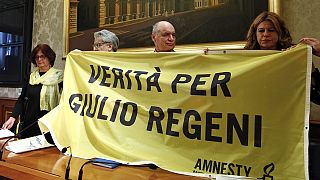 Egypt's president has hit out at reports that murdered Italian student Giulio Regeni was killed by the country's security service.
Abdel Fattah al-Sisi told a meeting of politicians and senior editors that Egyptian media outlets had picked up the reports from unfounded social media ramblings.
"This case is of great importance to us because we have a very special relationship with the Italians, and the Italian leadership were the first to stand next to us following the 30 June revolution," he said, referring to the protests that led to the overthrow of the Muslim Brotherhood in 2013.
For human rights groups and Italian diplomats, reports implicating Egypt's security service are credible.
An autopsy showed the 28-year-old Cambridge postgraduate student, who had been researching trade union movements, had been tortured over several days.
Regeni's parents have kept up the pressure on the Italian government, which has recalled its ambassador to Cairo in protest at the Egyptian inquiry's lack of progress.
However Italy is treading a fine line. The two countries have strong economic and diplomatic ties. Some deals are said to have been put on ice.
Egypt is also a key partner in the fight against ISIL and efforts to stabilise Libya.
Visiting Rome, prominent Egyptian businessman Naguib Sawiris – the leader of the "Free Egyptians Party" who also has a controlling stake in euronews – backed Italy's stance.
"Our feeling is that the truth has to come out. We don't accept the fact that the truth has not come out until now, and in that we believe that the Italian position is 100 per cent right," he said.
The details of Guilio Regeni's horrific murder in Cairo has shocked people beyond Italy and Egypt.
There have been calls for more European backing for Italy as it seeks to get to the bottom of Regeni's murder in Cairo.
Four human rights groups have criticised France for failing to speak out, days before President Hollande is due to visit Egypt.