Italy's Renzi visits Iran in bid to renew trade ties
Comments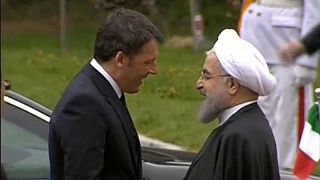 The Italian Prime Minister Matteo Renzi has begun a two-day trip to Iran, the highest-ranking European leader to visit since world powers stuck a nuclear deal with Tehran last year.
He was greeted by President Rouhani, who visited Rome in January.
A 250-strong delegation from Italy is accompanying Renzi as he seeks to renews the country's economic clout in Iran.
Italy used to be Iran's main economic and commercial partner. Annual trade between the two countries peaked at around 7 billion euros. But a decade of nuclear-related sanctions saw the figure plummet to under two billion.
Iran joined the global trading system in January following the deal to lift sanctions in exchange for limiting its nuclear ambitions.
Now it is seeking European help to upgrade its infrastructure and invest in manufacturing.
Terms have been agreed with Italy for deals in areas including oil, transport and shipping.