Greenpeace stage roof protest in Warsaw
Comments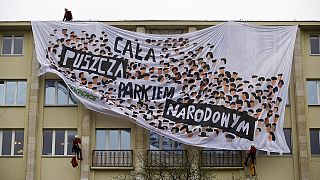 Activists climb on the roof of government buildings
Government has announced logging will increase
Greenpeace wants the national park extended
Campaigners from Greenpeace have staged a protest on the roof of government buildings in Poland.
They are urging officials in Warsaw not to destroy an ancient area of the country's forest.
A huge banner bearing the words "The entire forest should be national park" was unfurled over the front of the Ministry of Environment.
Bialowiezka has Europe's tallest trees and largest mammal, the bison.
It is Europe's last remaining virgin forest, with vast areas untouched by human activity.
Logging set to soar
Logging is set to be dramatically increased.
Polish Environment Minister Jan Szysko says a third of the forest will be left intact.
180,000 cubic metres of wood will be logged from the remaining two thirds over the next ten years.
The previous total was 40,000.