Austria beefs up border controls, expecting a massive migrant influx
Comments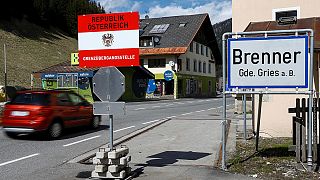 Austria has begun construction work at the Brenner Pass Alpine crossing with Italy.
Officially there are no plans for a border fence right now. A migrant control centre is said to be being built.
But some believe a barrier at this key crossing is just a matter of time.
Austria to clampdown on migrants at Brenner Pass https://t.co/1PuyhBXRhVpic.twitter.com/mxdnEc46B6

— Reuters TV (@ReutersTV) 12 avril 2016
On the Italian side of the border, local councillor Giovanni Pederzini accused Austria of trying to force the hand of its neighbour into stopping the migrants before they reach the Brenner Pass.
For Italy is set to become the frontline for the migrant influx into Europe this summer.
On Monday alone, its coastguard said it rescued 1,850 migrants from the sea off the Sicilian coast as calmer weather encourages more people to try to make the perilous journey from North Africa.
Austria fears huge numbers streaming north through Italy, hence its Brenner Pass building work about which the European Commission has expressed concern.
Austria will introduce tougher border controls at the crossing from June 1 at the latest as part of its tough response to the EU migrant crisis, Defence Minster Hans Peter Doskozil said on Tuesday.
With Balkan border closures and the EU's deal to deport illegal new arrivals to Turkey, the plight of tens of thousands of migrants and refugees stuck in Greece gets more difficult by the day.
"I thought we would find mercy in #Europe but it's even harder for us than it was in #Syria" https://t.co/4tv9Thvaxtpic.twitter.com/6HZ412LhBv

— MSF International (@MSF) 12 avril 2016
Hundreds at the Idomeni border crossing are now leaving – taking buses to reception centres provided by Greek authorities. Sunday's violent clashes with Macedonian police have led many to believe there is no point in staying.
Many more though are staying put, desperate for a breakthrough that would make their dreams of a new life in Europe finally come true.
At #Idomeni, Greece about 11,000 people have been sleeping for weeks in dismal conditions https://t.co/jBdsPCV0MLpic.twitter.com/BNThpUTvlj

— UN Refugee Agency (@Refugees) 12 avril 2016