UK politicians publish tax returns in bid for transparency after Panama Papers
Comments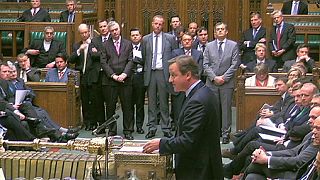 Politicians in Britain are rushing to publish their tax returns in a bid for transparency amid the fallout from the Panama Papers.
David Cameron made history on Sunday, becoming the first British leader to reveal the details of his income after it was revealed he had owned a stake in his late father's offshore fund.
Some have questioned the gesture, as any supposedly secret finances wouldn't be declared to HMRC.
George Osborne
It's out: George Osborne tax return is here:https://t.co/Dkf84pEXrnpic.twitter.com/1hR3wGHlWO

— Paul Waugh (@paulwaugh) April 11, 2016
Nicola Sturgeon
Nicola Sturgeon publishes her latest tax return in response to the #panamapapers row https://t.co/G6xhx6vboypic.twitter.com/UdpWFICRz0

— Herald Editor (@Herald_Editor) April 10, 2016
Boris Johnson
4-jobs Boris Johnson's tax return reveals he's made £600,000 in one year https://t.co/Pdap8Qe87Spic.twitter.com/PPKTZMZs8S

— Mirror Politics (@MirrorPolitics) April 11, 2016
Defending his financial affairs to parliament, Cameron said that wealth and aspiration are not dirty words, and announced new measures to rein in tax avoidance, particularly in British crown dependencies considered tax havens.
"For the first time, UK police and law enforcement will be able to see exactly who really owns and controls every company incorporated in these territories. Cayman Islands, British Virgin Islands, Bermuda, Isle of Man, Jersey, the lot."
Though not illegal, opposition leader Jeremy Corbyn, questioned the morality of offshore investments.
"There is now one rule for the super rich and another for the rest. I'm honestly not sure Mr Speaker that the Prime Minister fully appreciates the anger that is out there over this injustice.The truth is that the UK is at the heart of the global tax avoidance industry, it's a national scandal and its got to end."
The prime minister's approval rating dropped below Jeremy Corbyn's for the first time over the weekend, with 58% of people surveyed casting doubt over Cameron's ability to run the country.