Suicide bombers target police in Russia
Comments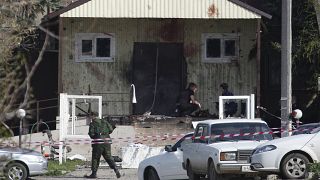 Security has been stepped up in southern Russia after a failed suicide attack at a rural police station on Monday.
Up to three bombers targeted the building in the Stavropol Region. There are conflicting reports about whether they all blew themselves up or two were shot dead by police. But no-one else was hurt.
It happened in the village of Novoselitskoe, not far from the volatile North Caucasus area, where Islamist militants intent on carving out a breakaway caliphate have waged a violent campaign against police officers in a series of car bombings and shootings.
At least two suicide bombers were thwarted outside a police station in Southern Russia https://t.co/uVMOPtLukXpic.twitter.com/otmO3lbfwu

— The New York Times (@nytimes) 11 avril 2016
An interior ministry spokesman said the authorities had responded to the attack by activating the "Fortress Plan," which meant police had been put on a higher state of military-style readiness.
An eyewitness video on the lifenews.ru news portal, filmed at what it said was the scene of the attack, showed the blackened entrance to the police station and assorted debris in front of it as a continuous alarm sounded in the background.
The man filming the video, who was not named, said there had been five explosions and automatic gun fire.